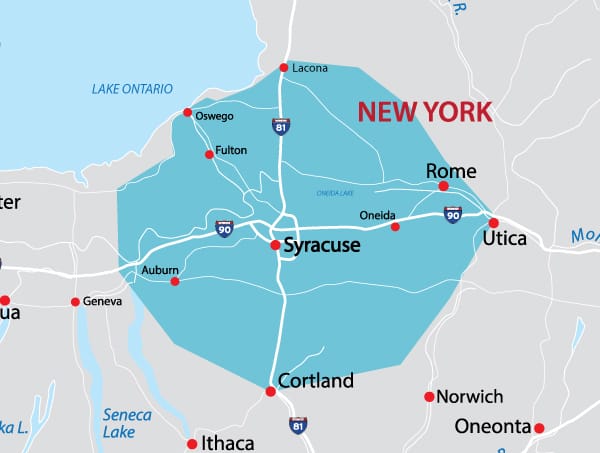 Central New York Bathroom Remodeling
Bath Renew is able to meet the needs and budgets of New York homeowners with high-quality bathroom renovations that cost a fraction of the price of a traditional bathroom remodels and can be installed in as little as one day.
Whether your bathroom is just a little outdated or in need of an extreme makeover, Bath Renew's design and installation experts can create a customized space you'll love. Serving Upstate and Central New York, including Syracuse, NY and the surrounding areas, Bath Renew is your first choice for affordable replacement tubs, showers, and other bathroom remodeling projects.
Central New York's Bathroom Remodeling Experts
From replacement showers to bath conversions in Onondaga County, NY and beyond, Bath Renew is the region's go-to team for cost-effective and customized bath renovations. With bath remodeling options to suit your needs and your budget, Bath Renew proudly serves homeowners in the following areas:
Syracuse: When you want proven experts to remodel your bathroom in Central New York, contact Bath Renew!
Cicero: Turn to us for walk-in tubs and other accessible bathing options.
Clay: Our innovative bath renovations cost a fraction of the price of traditional bathroom remodels.
Camillus: With custom options to fit every need and budget, Bath Renew is the premier choice for your bath remodels.
Marcellus: Transform your tub into a shower with Bath Renew!
Oswego: Bath Renew can complete your installation fast—often in as little as one day!
Liverpool: Our family-owned business always puts our customers first.
East Syracuse: Our acrylic bathing features are infused with Microban, so they won't crack or chip and are easy to keep clean.
Jamesville: Create a custom look with dozens of finishes, textures, and colors. Add accessories to create your perfect space!
Onondaga: Quality and affordability are not mutually exclusive—let us show you how we can create a beautiful new bathroom at a price you'll love.
Fairmount: If you're looking to transform your bathroom, look no further than the skilled Fairmount, NY bathroom remodelers at Bath Renew.
North Syracuse: Our family-owned and run business is ready to turn your bathroom into a daily escape.
Salina: Are you tired of scrubbing the grout in your shower or the cracks in your tub? If so, you should hire a team of Salina bathroom remodelers to install a new shower or bath.
Manlius: If you noticed that your bath or shower is outdated, you should hire Manlius bathroom remodelers to leave you with a new one.
DeWitt: While there are plenty of home improvement projects that you can handle all on your own, you should hire DeWitt bathroom remodelers if you want to save time and money.
Auburn: Looking for an experienced bathroom contractor in Auburn to update your bathroom? Look no further than the professionals at Bath Renew!
Downtown Syracuse: Have you thought about bathroom remodeling before but decided against it fearing the time and cost associated? If so, it's time to get in touch with the expert Syracuse bathroom contractor, Bath Renew.
Fulton: You deserve the best for your home and that's what you'll get when you choose Bath Renew for your Fulton bathroom renovation project.
Utica: Call us to speak with a professional about our many bathroom remodels in Central New York.
Rome: With lifetime-warranted products and a family-owned touch, it's no surprise that Bath Renew has completed more remodels than any other company in the area!
Cortland: When you need a bathroom remodeling company in Cortland, NY, call us first!
Contact Us To Get Started
As a part of the New York community, we love helping our neighbors transform their outdated baths into something beautiful. Since 2003, we've completed more bathroom renovations than any other company in the area—so why not put our experience to work for you? Contact Bath Renew today to chat with a design pro and receive a free, no-obligation estimate. Give us a call or fill out our online contact form now to get started!