Central New York Walk-In Showers
For far too many households in Syracuse, the simple act of bathing has turned into a situation full of stress, anxiety, and even physical danger. If you or your loved ones' daily bath has become more nerve-wracking than it is relaxing, why not start making a positive change today? With the accessible bathroom specialists of Bath Renew of Syracuse, you can say goodbye to uncomfortable and potentially hazardous bathing in just a matter of hours.
Fabricated to order for your unique bathroom specifications, our Syracuse walk-in showers are just as hassle-free to install as they are to use. They're manufactured by top-quality brands, protected by easy-to-clean Microban, and covered by lifetime transferrable warranties to ensure your complete satisfaction!
Accessible Walk-In Tubs, Walk-In Showers, And Bathroom Conversions In Syracuse
Bath Renew's accessible bathroom remodelers are proud to help families throughout Syracuse enjoy safer, more comfortable, and ADA compliant bathing options. Depending on your household's typical shower usage, budget, and aesthetic preferences, our on-staff designers would be happy to help you select and customize the perfect feature for you:
Walk-in Showers: Walk-in or roll-in showers are ideal for those who'd like the versatility and efficiency of a shower but with added features for stability. The spacious design allows for comfortable in-shower seating as well as sturdy grab bars.
Walk-in Tubs: For those who enjoy taking their time, nothing beats the deep-soaking relaxation of walk-in tubs in Syracuse! These soothing features have a low threshold and leak-proof door to keep entering and exiting easy.
Bathroom Conversions: With Bath Renew, you can enjoy the accessible tub or shower of your choice even if you don't already have the type of feature you want. Like all our remodels, our expert bathroom conversions can be completed in just a single day!
The following is one of our barrier free showers. You can walk in or roll in. The grey rubber on the bottom is a lip to help keep water in. But that can be stepped or wheeled over and will pop right back up. This is an ADA accessible shower. The seat that we put in there also fold up so that there is more room if needed. The bathroom shower is an acrylic material so its low maintenance.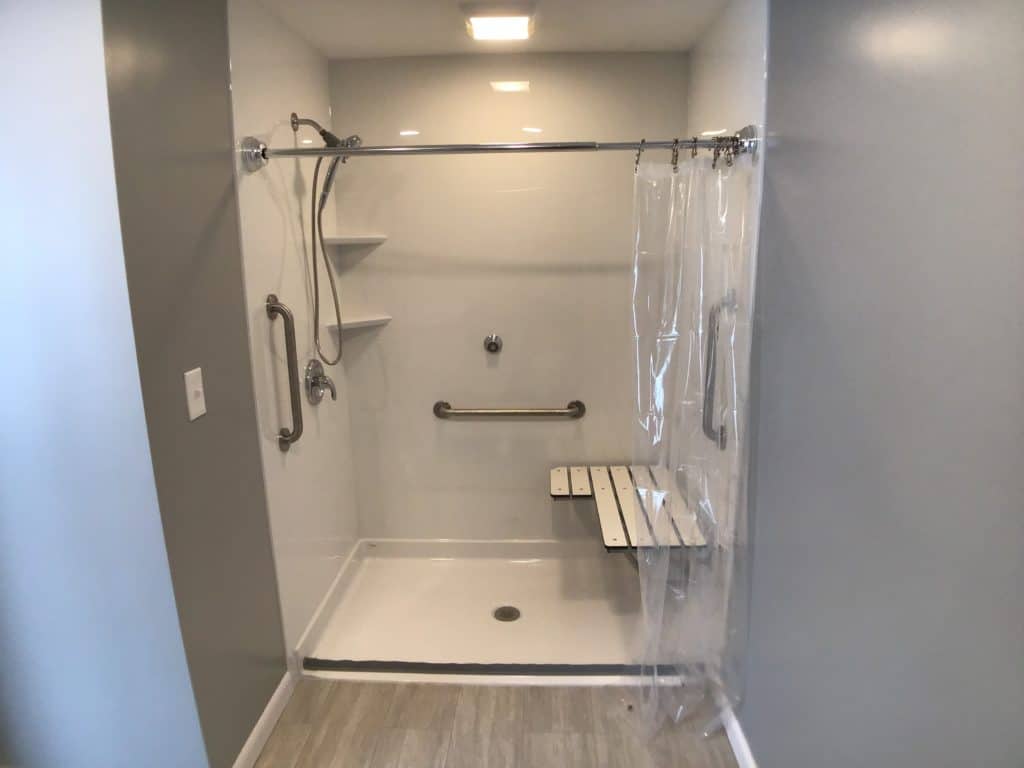 Ready For An Exact Project Estimate For Syracuse Walk-In Showers? Contact Us Today!
Across Syracuse, accessibility projects are best handled by Bath Renew. As a locally owned and family-operated company, we provide the best in service and expertise to our valued customers, and we'll make sure that your home is just as safe for your family as it could possibly be. Learn more about our Syracuse accessibility products by giving us a call, or go ahead and submit our quick online form to request your free consultation and no-pressure quote!