Tired of scrubbing and maintaining your old tub? Dreaming of transforming your shower stall into a gorgeous, new bathtub? If so, our bath conversion team at Bath Renew can get the job done. Our professional remodelers are thoroughly trained and equipped with the most innovative bath renovation products. The experience and expertise of our crew members continues to be a distinguishing benchmark that separates Bath Renew from our bath replacement competitors. Our bath products are all designed to:
Minimize bathroom downtime
Provide outstanding durability
Outperform traditional materials
Resist chipping, cracking, and denting
Personalize Bath Time With A Tub-To-Shower Conversion
If you're thinking about ditching your old tub for a sleek, new shower, there's no better team than Bath Renew for the job. Finally, you can convert tub to shower painlessly. Our bathtub-to-shower conversions services can replace your old tub with a space, time, and water-saving shower for less than you'd expect. As with all our remodels, you'll be left with a flawless result that will last a lifetime.
We have a variety of bath options to choose from, all designed to make your new shower extraordinary. They include:
Shower surrounds
Shower bases in multiple designs and colors
Shower enclosures
Grab bars
Built-in shelving
Beautiful faucets and fixtures
Glass shower doors
The next two images show when we removed a big stand-alone jacuzzi tub and demoed the remaining area. Our company ran new plumbing to accommodate for two walls to have shower heads. We also installed new ¼" mold and mildew resistant sheetrock to all walls. Then we installed a white oversized custom base in white, with greyline subway walls, and then with a section of taffeta wall as an accent. We included cardinal custom clear glass wall panels then finished the tub to shower conversion with a Moen Brushed Nickel handheld shower on a slide bar along with a rain shower head on the opposite wall.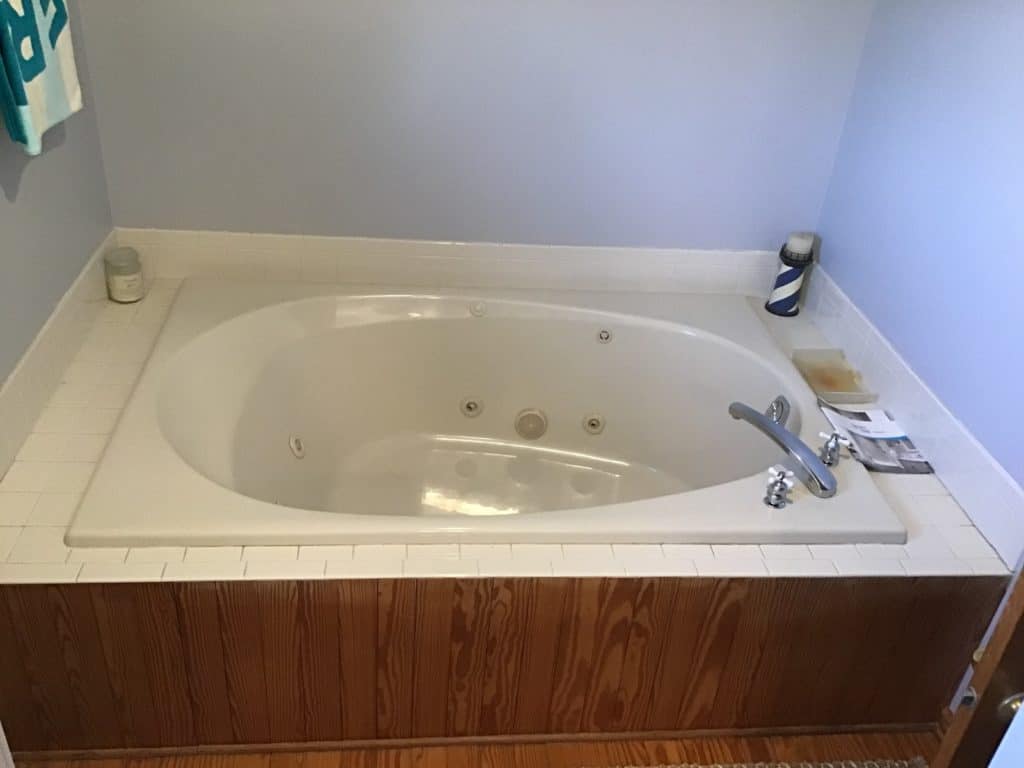 Before Conversion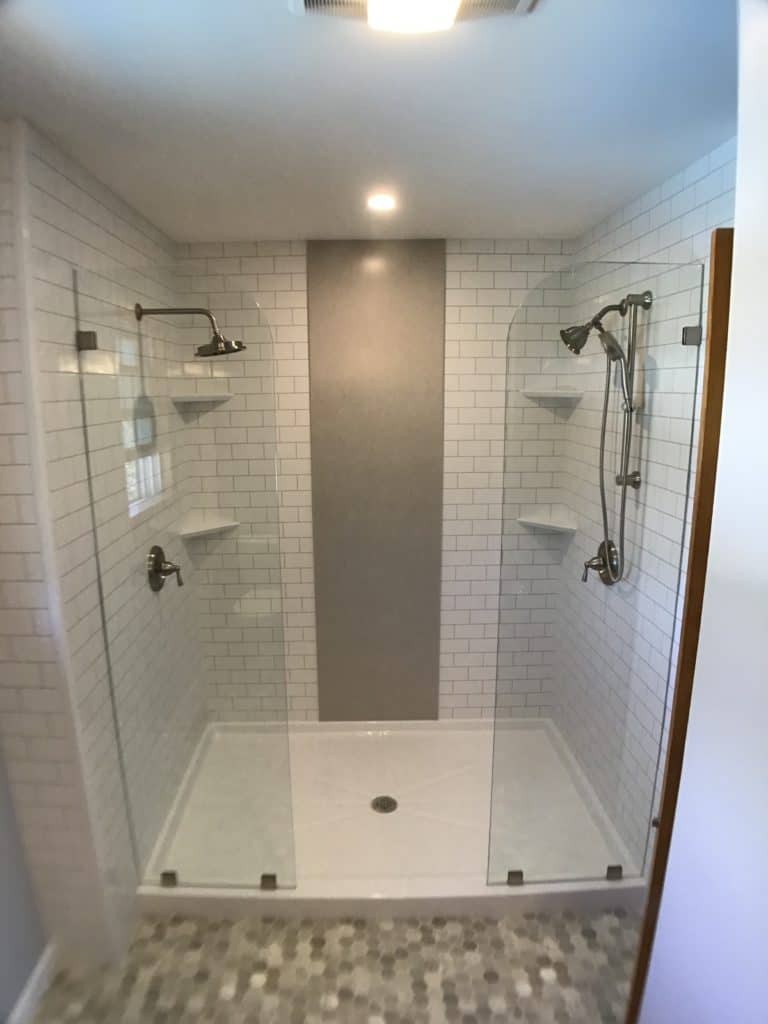 After Tub To Shower Conversion
In the next bathtub to shower conversion, Bath Renew removed a one-piece fiberglass unit and demoed all the old sheetrock. We installed all new ¼" mold and mildew-resistant sheetrock. Also installed was a new white slip-resistant acrylic base. This flooring is matched with Acrylic walls in Othello subway style to ceiling height. The new shower is finished with four white corner shelves. It was then matched with a Moen Banbury valve and trim in Chrome. And we completed the project with a Cardinal 3/8" Traditional Series Semi-Frameless bypass door finished with chrome fixtures.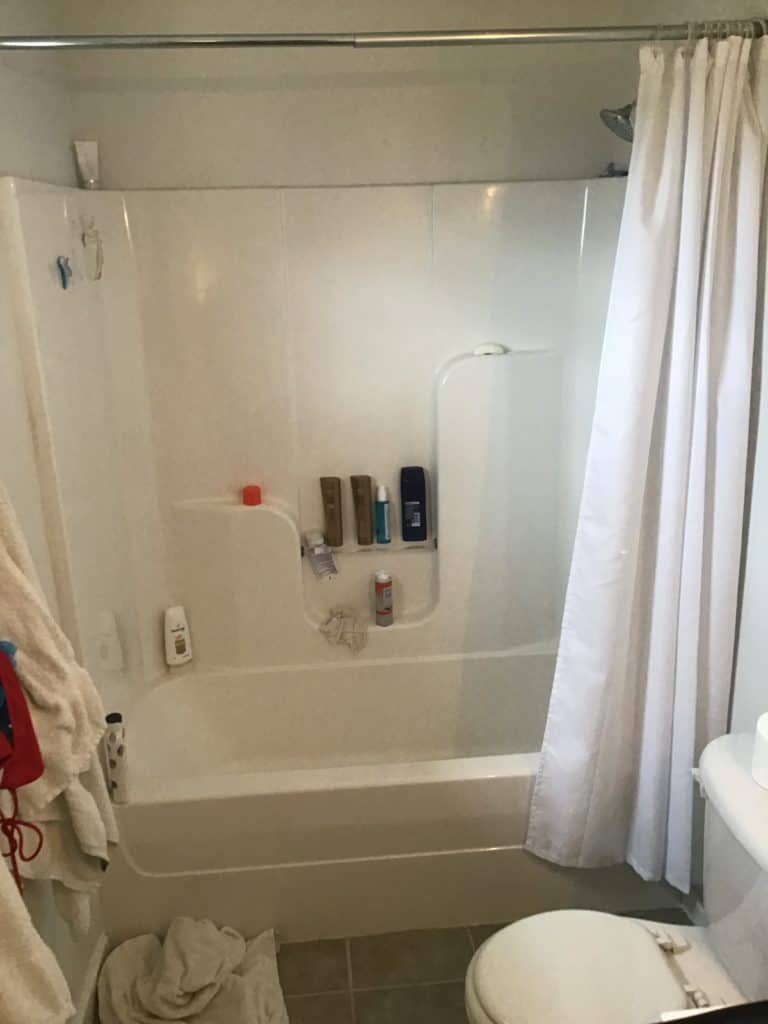 Before Frameless Conversion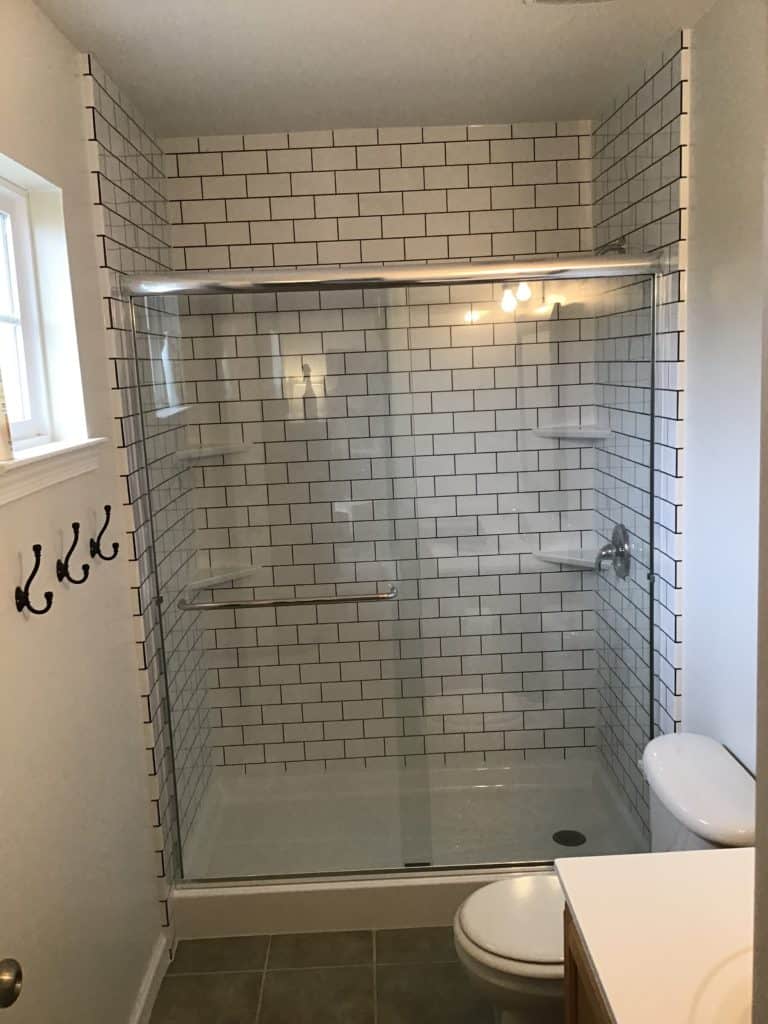 After Tub To Frameless Shower Conversion
Bath Renew proudly serves Syracuse, NY, Cicero, NY, Onondaga County, NY, and the surrounding Central New York area! If you live in the region, call our bath remodelers today to learn more about our bath conversions. We also invite you to submit our online contact form to request your free, no-obligation project estimate.
The following bathtub to shower conversion, Bath Renew removed a fiberglass unit with a tub. For the wet area we placed new ¼" moisture and mold resistant sheet rock and placed the new acrylic wall system over that. The client selected a San Michele travertine with a cobblestone wall patter. Along with a new white acrylic walk in shower base is a matching bench seat and shelves. Also added is 3-18" brushed nickel grab bars, and clear cardinal door in a traditional euro series semi-frameless ¼" glass. The finishing touch includes a Moen Magnetix hand held shower head.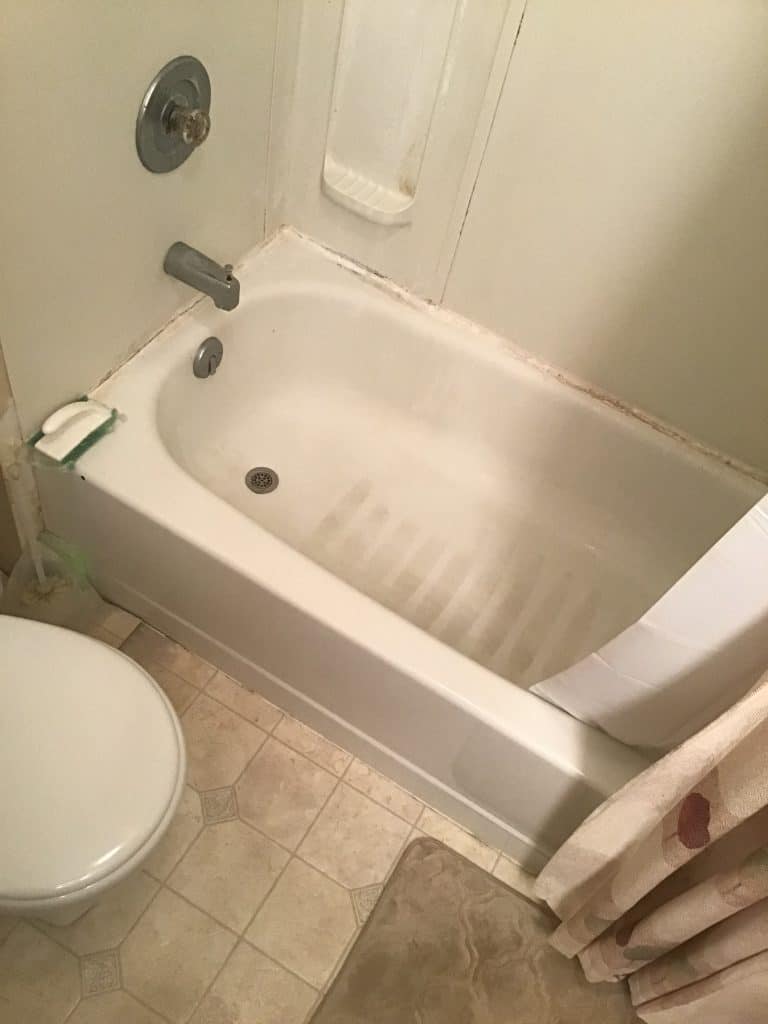 Before fiberglass bathtub conversion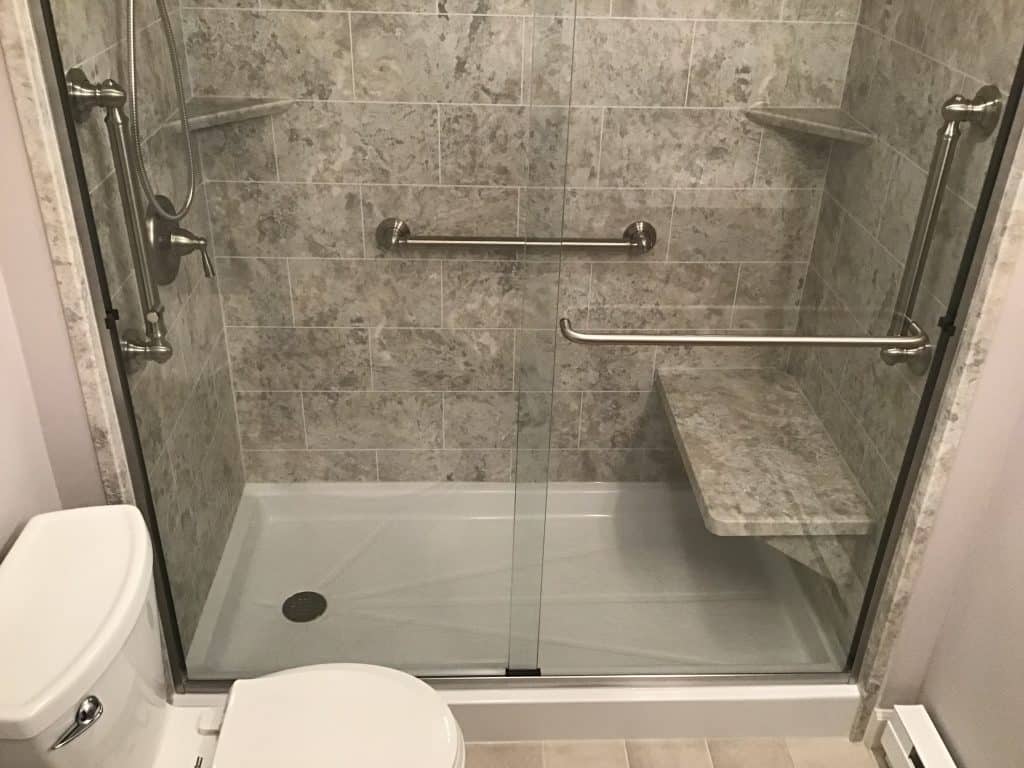 New shower conversion with acrylic wall system
In this next bath to shower conversion, Bath Renew removed fiberglass walls and the old tub. For the wet area we selected the Artic Ice with a cobblestone tile pattern and an acrylic white base and a white acrylic ceiling panel. There is also a new light & vent fan. 2-18" grab bars for the end walls and 1-24" grab bar for the back wall in Brushed nickel were installed. It is finished with a Moen Slidebar handheld shower head in addition to a stationary one in brushed nickel.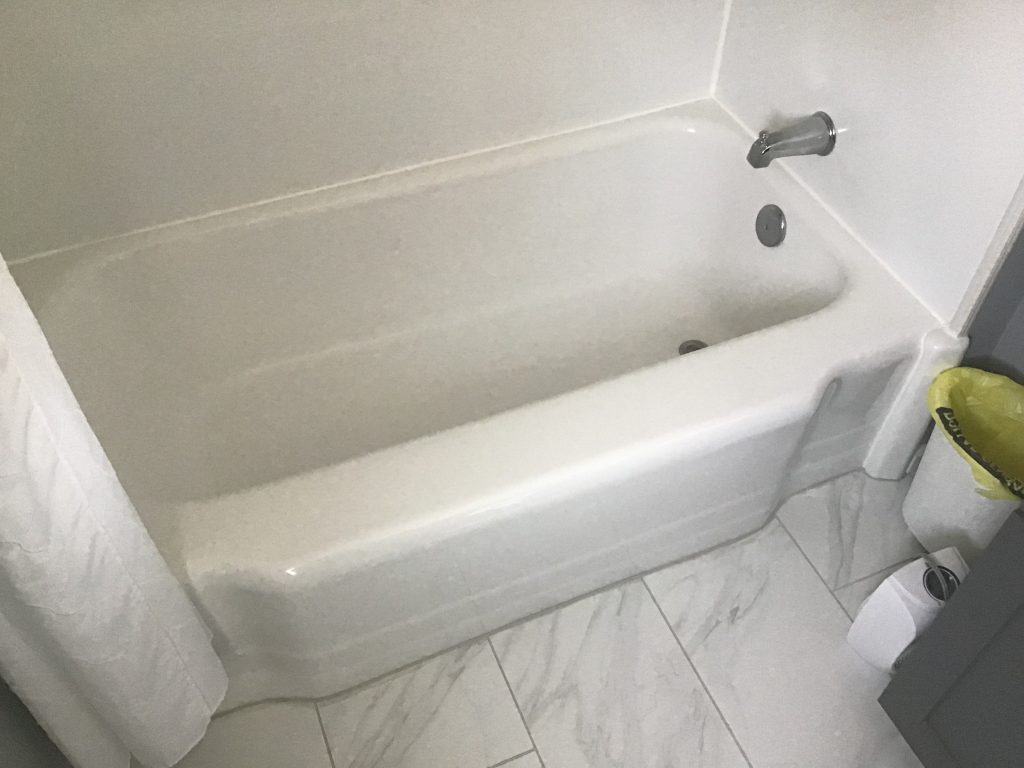 Before fiberglass walls removed for bath tub conversion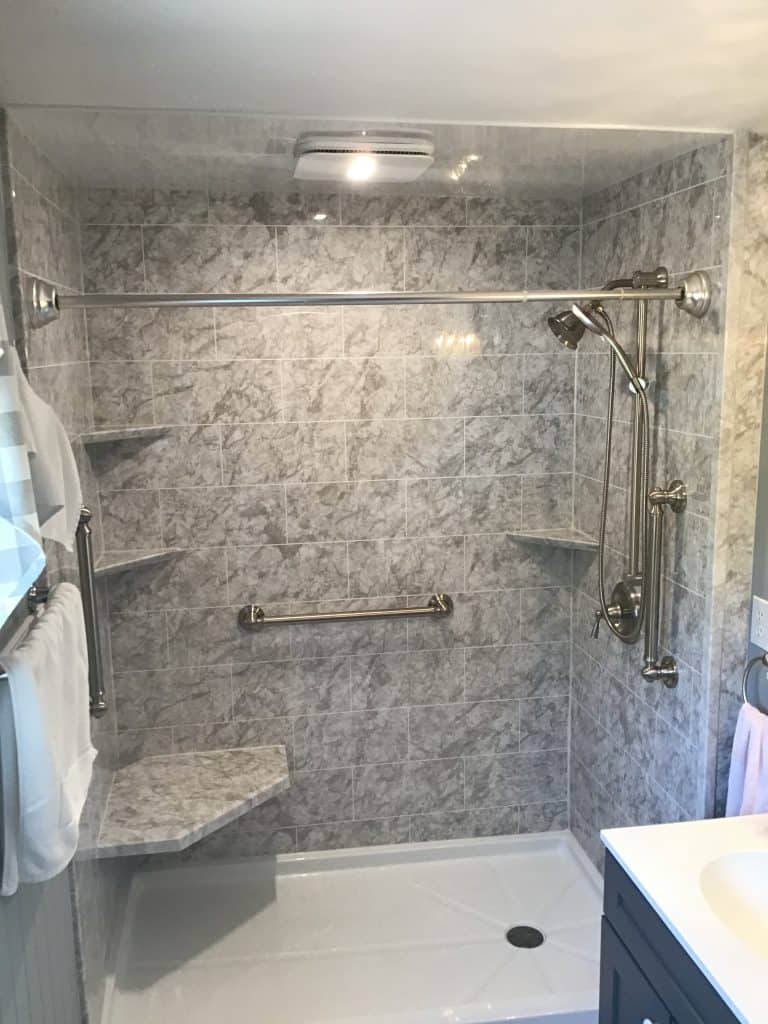 New shower conversion with Arctic Ice and Acrylic white combo