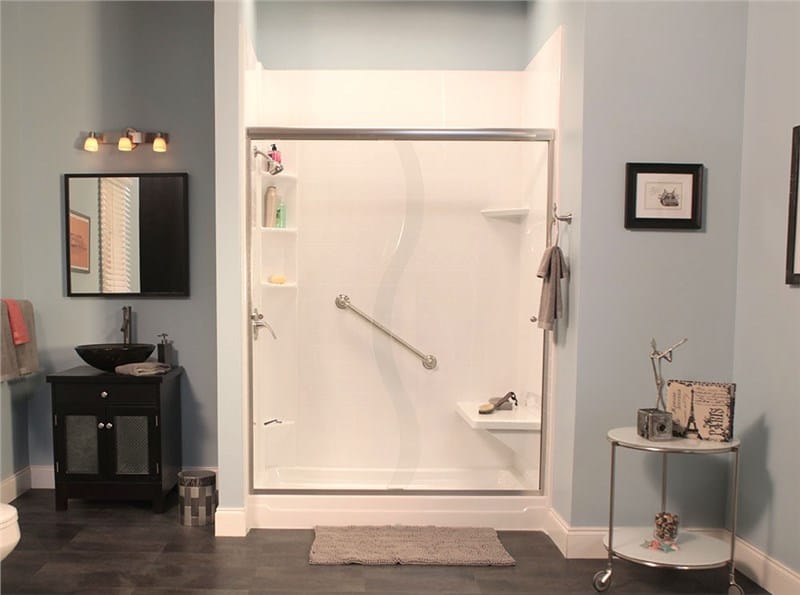 There are many reasons to remodel a bathroom. The reasons range from needing to replace a shower that's gotten old, moldy, and hard to clean, to a general desire to enhance the beauty and décor of your Syracuse home's bathroom. One of the biggest and most important reasons to upgrade your bath area, however, is to enhance the safety and accessibility of your home for those in your household dealing with limited mobility issues. When that's the case, deciding on a roll-in shower or walk-in tub is an important decision that depends on the individual needs and preferences of your family.
At Bath Renew, we've been Syracuse's first choice when it comes to building more efficient, high-value home constructions. One of our favorite projects is enhancing our customer's homes and lifestyles with easier-access, innovative bath and shower products, including walk-in tubs and showers.
In this article, we'll go over each of the options you have for updating your home with ADA-approved bathing solutions. Read along as we break down the pros and cons of walk-in tubs and walk-in showers, and how to make a sound decision between the two for a safer, more independent life at home.
Breaking Down The Options: Walk-In Showers Vs. Walk-In Tubs
Before we help you decide which one is more beneficial for your home, we'll first explore the differences between the two options themselves, and the pros and cons of those differences.
Walk-in Showers
Showering is usually the preferred choice for most of our customers, mostly for the convenience and efficiency it offers compared to tubs. For those seeking a more leisurely and relaxing experience, walk-in tubs are a wonderful option—though walk-in showers, with adjustable showerheads and a variety of water pressure options, can provide an equal amount of relaxation for anyone hoping to relieve some stress.
The walk-in shower, also known as a barrier-free shower, is a convenient, beautifully-constructed and designed product for those concerned with accessibility and décor. What makes a barrier-free shower so safe is the low threshold for entry and wider door openings, allowing even those in wheelchairs to roll right in—which eliminates the danger of falling.
Other features of walk-in showers like low seating, non-slip flooring, and customizable low-reach faucets and controls are reasons why the walk-in shower is a favorite for those with limited mobility issues.
Walk-in Tubs
While a shower might offer speed and convenience, walk-in tubs were made for relaxation and taking it easy. This option is a favorite for those who want more accessibility than a standard bathtub while still taking advantage of the luxury of being able to soak. Walk-in tubs come with safety features that can be personalized to the preferences of our customers, with added caddies, custom-reach controls and faucets, and other options.
For those who want to splurge and feel luxurious, there are even models that offer:
· High-Pressure Water Jets
· Digital Temperature Display
· Handheld Hoses
· Heated Seats
Deciding Between A Walk-In Tub And A Walk-In Shower
In general, walk-in showers and bathtubs are safe and accessible options for those wanting to upgrade their existing tub or shower products.
Walk-in showers may provide more long-term value and convenience in the long-run and will likely raise the value of your home in case you ever decide to sell. They're also more usable for those with wheelchairs, who will be able to roll in and out, and even lift themselves onto low-positioned seats for optimal levels of independence and safety.
On the other hand, walk-in tubs are perfect for those that can't get enough of the quiet, peaceful comfort that can be achieved with a long soak in a hot tub. When it comes to relieving stress, soothing tired muscles and aches, and taking a moment to relax, there's nothing better than a walk-in tub.
Whether you've decided on a walk-in shower or a walk-in tub, Bath Renew can help you install the perfect accessibility products to enhance your comfort and safety at home. We'll even help you make the right choice with a free, in-home, no-obligation price estimate—just fill out the online form or give us a call to get started.