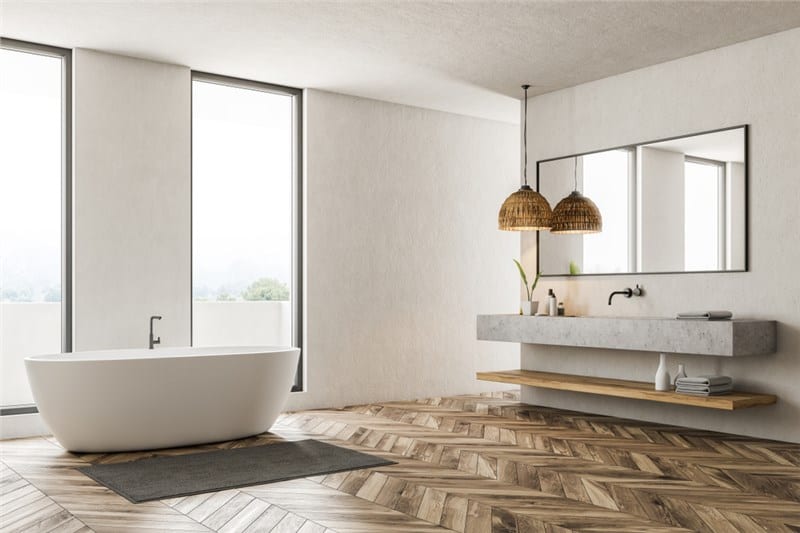 A bathroom remodel is a home improvement project that requires planning, design, and flawless execution to avoid unnecessary additional costs and an extended timeline for completion. Unless you work in the home improvement industry, it is recommended to hire a bathroom remodeling company to help you accomplish the project efficiently.
However, one of the most common questions of homeowners before undertaking this project is how long does it take to remodel a bathroom? This is because it involves some level of disruption in the home. In this article, our experts will give you an idea regarding the time frame required to accomplish such project.
Remodeling Times Will Vary
Just like any other home improvement project, the time it takes to remodel a bathroom depends on the size of the bathroom, the scope of the project, and the complexity of what needs to be done. For instance, a simple project can take a few days or a full week to complete, while more complex jobs may require several weeks.
If you only have a small bathroom and you only require partial remodels such as the replacement of some fixtures and/or flooring, the project could be completed in about a week or two. Meanwhile, if the project involves custom work or major changes such as wiring or plumbing work and reconfiguration of the layout, it can take a couple of weeks.
At Bath Planet of Syracuse, we're dedicated to providing top-quality, comprehensive renovations for bathrooms in the area. Proper remodeling work shouldn't take a long time, but it won't take overnight, either. In this article, we're going over remodeling durations for different types of projects to help you understand what you can expect for your bathroom remodel.
Aspects Of The Bathroom Remodel Process
It's hard to say how long a bathroom remodeling process might take. The length of time will depend on the company remodeling your bathroom, their techniques and installation methods, and the products they use to transform your old, deteriorating space into a new and improved one.
While 24-hour remodeling services do exist, the companies that perform them use quick surround pop-ins to cover up unsightly areas. In comparison, traditional home remodeling services like the ones we provide at Bath Renew of Syracuse are prompt, but thorough as well—which means that we take the time and care to provide full, comprehensive renovations instead of simply masking the surface areas.
In any case, a well-planned and executed remodeling process should be quick, but can still take a bit of time depending on the process performed. Here's a breakdown of what you might be able to expect for your bathroom remodeling project, depending on the services you choose.
1. Planning and Design
Before the actual bathroom remodeling is executed, the design and layout of the bathroom must be finalized. Normally, the design selection takes three days to a whole week. However, choosing from a catalogue of examples can make this process a whole lot faster.
2. Demolition
If you're going for a total bathroom renovation or a change in layout, demolition may be required. All shelves, vanities, flooring, and divisions will be dismantled within one to two days.
3. Plumbing and Electrical
Laying electrical wiring and plumbing work such as replacement of drain pipes can be done in about two days. The wires will be placed through the walls and covered so they are not visible, but if you are trying to fix the electricals after the walls are put up, it may take a longer time because the process requires drilling.
4. Ceiling and Walls
The installation of plaster material or drywall in the framed walls and ceiling, which bathroom remodelers call skeleton, shouldn't take more than a day. However, if your bathroom is really huge, the process can take more than a day.
5. Installation of Tiles and Painting
Laying the tiles on the floor and walls can take a lot of work and time depending on the square footage and the tile size. In about a week, the tiles will set and painting the walls—which is the next step—may take half a day or whole day.
6. Fixtures and Lighting
If you need to replace your shower, bathtub, faucet, sink, and lights, the whole process could take a whole day at most.
Once everything you need to be installed or painted is done, all debris and dirt will be cleaned. Paint stains will be removed with special chemicals too, so your bathroom will look good as new.
If you are looking for a reliable company that you can hire for your bathroom remodel project, Bath Renew of Syracuse is the company to call. Unlike other companies that market fast completion, our certified professionals take the time to ensure quality service delivery at a reasonable time frame.
At Bath Renew of Syracuse, our expert bathroom remodelers can take on your bathroom improvement needs no matter how small or big the project—and transform your space into the bathroom of your dreams, without worry, stress, or hassle. Contact us today for more information about our superior remodeling services, or fill out this online form to get a free in-home estimate.